Profile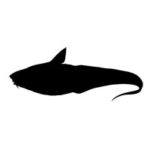 Abyssal Grenadier
We'd love to be the first deep sea genome ever sequenced!
My CV
Latin name?

Coryphaenoides armatus

UK population? (How many are in the UK?)

We are very good at being cryptic. Scientist don't know exactly how many but there lots of us!

Genome Size? (Genome size is the total amount of DNA contained within one copy of a single genome)

My closest sequenced relative is the cod at 0.9 gigabase pairs.

Most recent common ancestor to Homo Sapiens (presumed)

Our common ancestor lived about 432 million years ago.
I should be sequenced because...: it will help scientists understand how my genes allow me to cope with stress and survival in the extreme environment of the deep sea.

About Me::

I am a member of the cod family even though I look very different. If you look very closely you can see I have a barbel on my chin that lets me taste things and two dorsal fins on my back, just like regular cod.

The reason I look so different is because my ancestors and I have been living in the deep sea for a very long time. My body has evolved and adapted to the extreme environmental conditions in very specific ways and made me very different from shallower living fish.

When I am young I am a predator and eat all sorts of stuff. As I get older I become more and more of a scavenger. I might be one of the only examples of an animal that lives almost entirely by scavenging. There isn't much food down here, so I have had to get really good at finding it and making it last. Also as I get older, I use my eyes less and my sense of smell more, even my brain changes to give me a supercharged sense of smell. This makes sense since no light penetrates this far below the surface and I live in complete darkness.

I am constantly swimming, hoping that I will stumble across the smell of something dead that has sunk to the bottom of the sea. Searching like this takes energy though and I have to make my energy last, so I have developed a long whip-like tail. The tail isn't very fast, but it means I can swim very long distances without using too much energy. My tail gives me one of my common names: "Rat-Tail". Watch my tail move!

When I eventually find something delicious, like a rotting dolphin or tuna, I eat as much as I can and store it as fat in my very big liver. If I have been eating well, my liver can be 1/3 of my body weight! This will help me get by between meals, which can be months apart! I have to be careful not to waste any energy as we have very little to spare. Since we are so focused on food and conserving energy, having offspring is lower on the to-do list. Scientists think it might take us our whole lives (decades of time) before we have enough energy to breed once.  Watch me feed!

My body has had to change in more subtle ways too. Down here I have the weight of thousands of meters of water pushing down on me. Each 1 cm squared of me (about the size of your thumbnail) is getting squeezed as if 400 kg is sitting on it! Every part of me has to cope with this and to do that I have lots of special versions of the molecules found in shallower fish. The secrets of these molecules are hidden in my genes. If you sequenced my full genome, you could compare it to my shallower cod relatives and spot the places where I am different.

My life might sound very tough (it is!) but I am good at it! You can find me in all of the world's oceans. Our planet is a deep-sea planet. My habitat covers more than half of the world and is it all connected. It's strange for a single species to have such a huge range without any barriers. Sequencing my genome will allow scientists to understand how one of us from the Arctic Circle is related to one of us off the coast of New Zealand. How far do we travel constantly swimming and how closely related are we to each other?

Since we live so far below the ocean's surface, how do scientists study the abyssal grenadier?  Our understanding of the deep sea lags behind that of other areas due to the technical challenges of the extreme environment (remember the high pressure!). In order to study these animals, our equipment must withstand these same extremes. One way scientists study the abyssal grenadier and other deep-sea-living animals is by sending down baited autonomous landers.  These landers are like large tripods outfitted with dead fish to bait animals, video cameras, and even traps to bring back up a few animals.  Watch a deployment of a lander to see who comes to the camera – the abyssal grenadier (https://www.youtube.com/watch?v=pvzfD66btGw)!

Scientists are out a sea for weeks, and it is hard work to deploy the landers, collect them, and process the videos and samples. Even though sampling the deep-sea is challenging, the results are rewarding! With each research cruise and each lander deployment, we all understand more and more about the biodiversity and ecosystem processes of our oceans.  Full genome sequencing of the abyssal grenadier would provide a better understanding of species distribution and how these species cope with environmental stress and anthropogenic changes. A greater understanding of the ecology and evolution of deep-sea species not only expands our scientific knowledge but it also develops a much-needed stewardship of our oceans.
---
---
---
---
---
---