Profile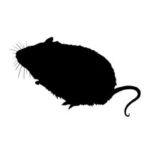 Orkney Vole
My CV
Latin name?

Microtus arvalis orcadensis

UK population? (How many are in the UK?)

We're only found in the Orkney Isles so we're quite rare

Genome Size? (Genome size is the total amount of DNA contained within one copy of a single genome)

Roughly the same as all mammals, around 3 billion base pairs

Most recent common ancestor to Homo Sapiens (presumed)

66 million years ago, just after the asteroid impact that wiped out dinosaurs
I should be sequenced because...: I'm rare, vulnerable and a fascinating example of recent evolution in action

About Me::

Until about 5000 years ago there were no European Common Voles living anywhere in the British Isles and then, for reasons that are lost in the mists of time, some famers living on the coast of Belgium sailed their way to the Orkney Isles taking a small population of European Common Voles with them.

Whether the voles were carried deliberately (perhaps they were a favourite snack of the ancient Belgiums), or somehow stowed away on the boats, is unclear. But perhaps the answer is in the name of the animal itself, the 'vole'. Surely it's no coincidence that the word for 'stolen' in the French-speaking part of Belgium from where my ancestors originate is 'vole'.

Whatever the answer is, 5000 years later we are still the only European Common Voles in the British Isles.

From just a few Belgium invaders grew a population of Orkney Voles, and my ancestors soon adapted to their new and harsh environment. But we are still fairly rare and inbred,  so are vulnerable to infections that could wipe out our entire population, especially in a harsh environment like the Orkney Isles. So if you want to investigate the mysteries of our genome you'd better get on with it, as there's always the risk of us going extinct.

Of course what also makes our genome more interesting than any of the others is that precisely 5000 years ago my ancestors moved from the calm and moderately warm climate of Belgium to the wild, wet and windy northern outpost of the Orkney Isles. In just 5000 years we've adapted and (often) thrived in this new environment. So compare our genome that of our Belgium cousins (which is already available) and you'll reveal many secrets about how animals adapt to harsh environments .

What could possibly be more interesting than that?!
---
---
---
---
---
---