Profile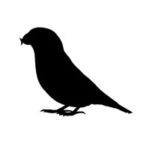 Scottish Crossbill
My CV
Latin name?

Loxia scotica

UK population? (How many are in the UK?)

There are a few thousand or so of us hidden away up in Scotland

Genome Size? (Genome size is the total amount of DNA contained within one copy of a single genome)

1 gigabase pairs

Most recent common ancestor to Homo Sapiens (presumed)

A very simple reptile about 340 million years ago!
I should be sequenced because...: I can teach us so much about evolution - all about what makes a species and what affects animal shape and size

About Me::

I am a crossbill. I get that name because I have a crossed bill! That helps me prise apart pine cones so I can get at the pine seeds that are my favourite food.

To be more precise I am a Scottish crossbill. I'm only to be found in the old Scots pine woods of highland Scotland, and nowhere else. That actually makes me amazingly important as I'm the only bird species (actually the only vertebrate) that's found in the UK and nowhere else! So as a symbol of the UK biodiversity and natural history I stand alone!

The problem is that there isn't that much old Caledonian pinewood left, and so numbers of us crossbills are pretty low. And there are other types of quite similar looking crossbills that can be found that I could potentially mate with and so lose our identity as a Scottish crossbill and so we lose our unique status. I have a specific call and local accent to try and only attract other Scottish crossbills, but you never know.

Everybody knows about the Galapagos finches that Charles Darwin studied to learn about evolution. Well us crossbills are Britain's very own equivalent! Our bill size and shape is a consequence of what we eat, and is slightly different between the crossbill species. If we go looking at my Scottish genome we'll get to learn all about the genes that control our shape and size and form, how these are influenced by living in Scottish woodlands and what makes one species different from another species. Imagine that!
---
---
---
---
---
---