Profile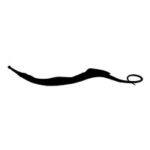 Snake Pipefish
My CV
Latin name?

Entelurus aequoerus

UK population? (How many are in the UK?)

No one knows. We usually live at fairly low densities and spread out near the coast and out at sea around the UK.

Genome Size? (Genome size is the total amount of DNA contained within one copy of a single genome)

Around 450Mb I think.

Most recent common ancestor to Homo Sapiens (presumed)

A tetrapod, some sort of frog-like creature.
I should be sequenced because...: I represent an ancestral state to the more advanced pregnancies of seahorses, thus I can shed light into the evolution of fish pregnancy.

About Me::

I belong to the family Syngnathidae, which includes all pipefishes, seahorses and the exotic sea dragons. In our family only males care for the young and the evolution of our brooding structures drove speciation in our family, that is, the diversity of brooding structures led to the evolution of  different species among us. But I'm different from all others. I am not dependent on marine plants for protection. I am the only oceanic species in the Syngnathidae family, which means that I can live almost anywhere in the eastern North Atlantic Ocean, both out at sea and in sheltered bays around Europe. Although I'm not a great swimmer I can get pretty far. Scientists believe I travel with the currents in the ocean (a bit like the turtles in finding Nemo) and also that my babies develop faster than those of other species so that they can reach adulthood quicker. Because we are all spread out all over the ocean it's important to be reproductively mature quickly so we are ready to mate whenever we come across a potential partner. Although we prefer warmer waters, we also seem to be able to mate in colder waters compared to other species around Europe. This ability allows us to mate during more months of the year so that in good years our population can grow really fast.

I am also really beautiful. I am orange-brown in colour, with whitish stripes across my body that sometimes can look bright blue. I guess, I got my common name after my stripes, they make me look like a cute ginger snake. I'm long and slender, although our females have a pronounced keel on their understand that makes them look big and thick. That's how they try to impress the boys!
---
---
---
---
---
---